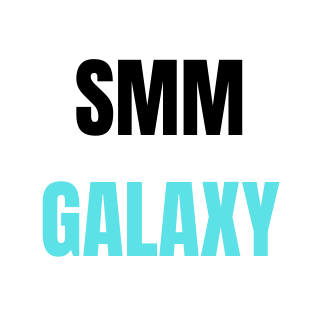 Unlocking Social Media Success with an SMM Panel
In today's digital age, social media has become an integral part of our personal and professional lives. Whether you are an individual seeking to build your personal brand or a business looking to expand your online presence, effectively harnessing the power of social media is crucial. That's where an SMM panel comes into play. In this blog post, we will explore the benefits and strategies of using an SMM panel to unlock social media success.
Understanding the Smmgalaxy SMM Panel:
An Smmgalaxy SMM panel, also known as a Social Media Marketing panel, is a comprehensive platform that provides a range of services and tools to optimize your social media presence. It offers features such as post scheduling, content creation, analytics, and automation, all designed to streamline your social media marketing efforts.
Streamlining Social Media Management:
One of the primary advantages of using an SMM panel is its ability to streamline social media management. With a centralized dashboard, you can manage multiple social media accounts across various platforms, such as Instagram, Facebook, Twitter, and LinkedIn. This eliminates the need to log in and out of different accounts, saving you time and effort.
Efficient Content Creation and Scheduling:
Creating and scheduling content consistently is key to maintaining an engaging social media presence. An SMM panel provides you with a suite of tools to create and curate content effortlessly. With features like pre-made templates, access to stock images, and content scheduling, you can plan and organize your posts in advance, ensuring a steady flow of content to keep your audience engaged.
Data-Driven Decisions with Analytics:
To fine-tune your social media strategy, it's essential to gather insights and analyze your performance. SMM panels offer robust analytics tools that provide valuable data on key metrics such as reach, engagement, and follower growth. By monitoring these metrics, you can identify successful campaigns, understand your target audience better, and make data-driven decisions to optimize your social media efforts.
Automation for Increased Efficiency:
Automation is a game-changer when it comes to social media management. An SMM panel allows you to automate repetitive tasks, such as posting content, engaging with followers, and monitoring mentions. This frees up your time to focus on more strategic aspects of your social media strategy while ensuring consistent and timely engagement with your audience.
Leveraging Targeted Advertising:
SMM panels often provide advertising options to help you target specific audiences and amplify your reach. With features like boosted posts, targeted ads, and audience segmentation, you can maximize the impact of your social media campaigns and attract relevant followers and customers.
IMPORTNAT
In a world where social media holds significant influence, an SMM panel becomes an invaluable tool for individuals and businesses seeking social media success. By streamlining social media management, automating tasks, and leveraging data-driven insights, an SMM panel empowers you to build a strong online presence, engage with your audience, and drive meaningful results. Embrace the power of an SMM panel, and unlock the potential of social media marketing today.
Advertising and promotion:
Smmgalaxy SMM panels offer options for advertising and promoting social media content. Users can leverage features like targeted ads, sponsored posts, and boosted reach to enhance the visibility of their posts and attract a wider audience.It's important to note that the use of Smmgalaxy SMM panels should comply with the terms and policies of the respective social media platforms. Additionally, the effectiveness and ethical implications of certain services offered by Smmgalaxy SMM panels, such as buying followers or engagement are unharmed and has been using buy 50 thousands user across the country and not a single complain regarding anything minus for any client account
Check-Out All Other Services Too
We understand " Your Appearance " Matters a Lot